I first decided back in 2016 that I wanted to ride from Quito to Ushuaia, most of the length of South America. I loved the idea of the "Andes Trail" tour run by Bike-Dreams so signed up in August 2018. I was surprised then that the tour, which didn't start for a year, was nearly full. I reserved my place and quickly decided that I would do it on bike instead of unicycle. The 100km per day average (with some days of 100 miles) with hard conditions and few rest days made it an easy decision.
I hadn't ridden a bike much since I switched to unicycle over 20 years ago. So I looked for the right bike and found it in the Salsa Cutthroat. It's a Gravel bike, and I added a front shock. More recently I've changed the tires from knobby MTB tires to 42c Specialized Sawtooths. I am hoping these are beefy enough for thousands of km of dirt and gravel and roll fast and easy. I bought the bike at the beginning of 2018 and have ridden it about 2000 miles so far, and love it!
Travel plans are not all complete yet but Grace and I are flying to Quito on July 3, then will be in the Galapagos from July 5-23. She will fly home on the 25th leaving me in Quito to train a bit for the tour which officially kicks off on Aug 2 with a ride north to the equator for the official start. On Aug 3, we head south from Quito.
Here is the info about the tour. And here's where it goes: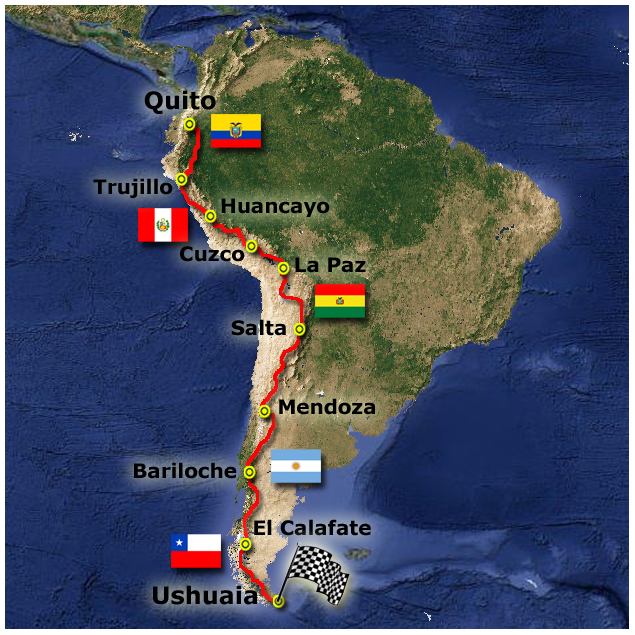 Here you can see all the crazy people I'm doing this with. We train "together" via a club on Strava.